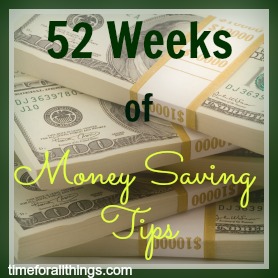 Who doesn't love to save money? However, it is not as easy as it seems. Often, I find myself spending more than I would like then when I really want to make a big purchase or save for an extra fun vacation, I just don't have the money. This year, I decided as one of my New Year's Resolutions to focus on ways that I can save money.
Make sure that you bookmark this post as it will serve as a table of contents for the entire series. As each new article is posted, I will add it here.
52 Weeks of Money Saving Tips
Week 4 –
If you have any great money saving tips or articles that you have written, leave me a comment! I would love to incorporate your ideas into my series.