How to Make Foaming Hand Soap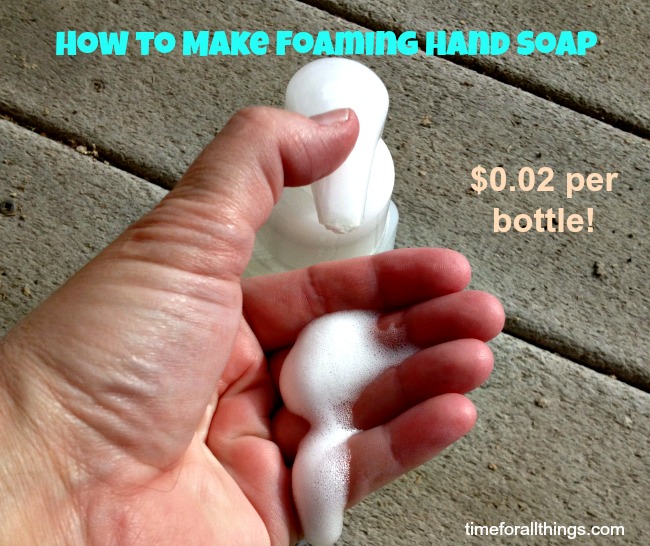 One way that I save money at my house is to buy items on sale or on clearance. One of my favorite clearance items is liquid hand soap at Bath & Body Works. My favorite is the foaming hand wash and it retails for $5.50 each. However, I usually buy a bunch when they are on sale and can sometimes get them for $3.00 – $3.75 each. However, I wondered if I could make hand soap myself for even cheaper!
I found two small soap bars that I had collected from my hotel stays over the years. These soap bars are approximately 1.3 ounces a piece. I decided to see how much soap I could make from these two small bars. Here is what I did:
Grate the soap using the fine side of my grater. This makes it easier for the soap and water to mix.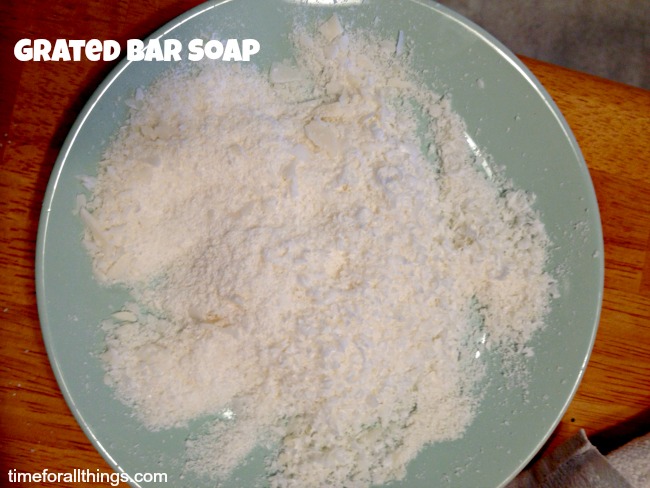 Put the soap shavings and 2 1/2 cups of water into a saucepan and cook on medium heat until the soap is melted.
Remove the pan from the stove and let sit overnight.
The next day, check the soap mixture. Mix with a spoon. It should have the consistency of pudding. If the soap mixture is hard, add an additional cup of water, heat on stove again and let sit. Check again the next day for consistency.
Save an old milk gallon jug and using a funnel, pour the soap mixture into the jug. Fill to the half point with hot water and replace the let. Shake to mix.
Fill the milk jug the rest of the way up with hot water (leaving about 1″ head room at top). Shake to mix.
After the mixture has cooled, you can add scented oils or food coloring if you wish. I added Plumeria scented oil (about 30-40 drops) but not the food coloring. If you love different scents, do not add the scented oil at this time, but add a few drops to your hand soap bottle each time you refill.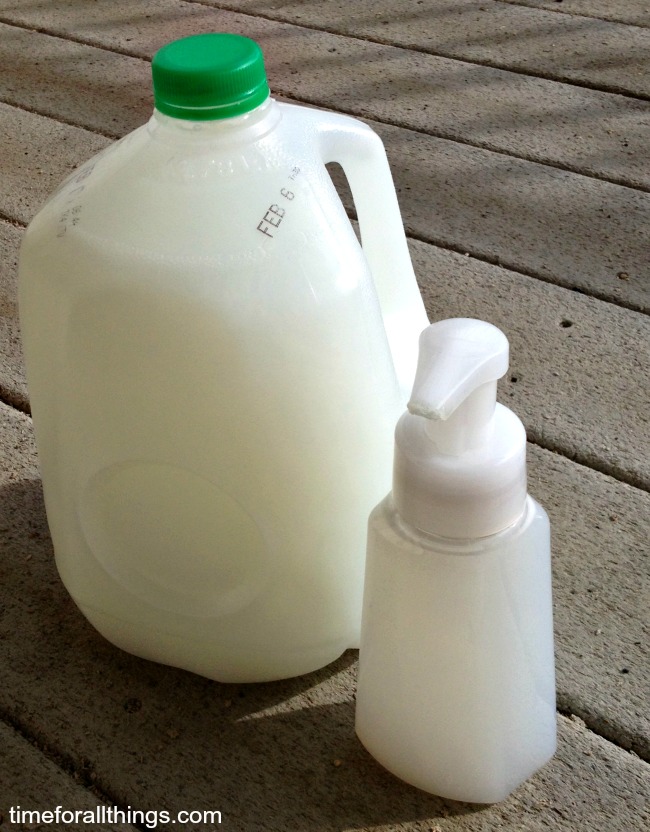 Rinse out a saved foaming hand wash bottle and fill about 1/3 full with your soap mixture. (Make sure you shake your soap mixture before pouring into the bottle.) Then add hot water to fill the bottle leaving about 1/2″ head room at the top for the pump. Shake thoroughly to mix. You can also use a regular pump soap bottle. Instead fill the bottle about 1/2 full and the rest with water.
How much did I save?
Soap – Free!
Scented Oil – $3.99 used 40% off coupon, final cost $2.39 and I only used 1/3 of a bottle for $0.80.
Water – Free (kind of)
Each time I fill up a bottle, I use about 3 ounces. Which means I can make about 43 bottles of liquid hand soap.
My final cost:
$0.02!
I can't believe how cheaply I was able to make the hand soap. I store the milk jug under the sink in the bathroom and now fill up the hand soap bottles as needed.