100.8K Flares
100.8K Flares
×
This year, as one of my New Year Resolutions, I want to start a yearly savings plan to save money for a Christmas Cruise! My sister, who will be turning 50 this year, wants us all to cruise together to celebrate her birthday. Unfortunately, cruising can be very expensive when you factor in five tickets plus excursions, sight-seeing and souvenirs!
52 Week Savings Plan
You may have seen across the web a simple savings plan that starts with $1 dollar and adds a dollar each week. By the time you have finished saving money for 52 weeks you will have saved a total of $1,378. It looks like this: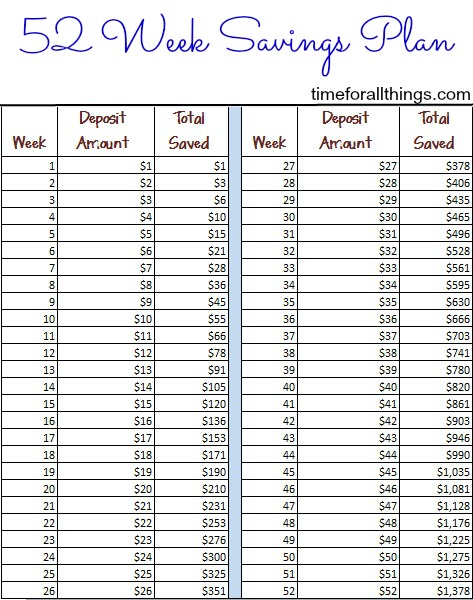 Aggressive 52 Week Savings Plan
This is a great plan if you want to save for a bigger purchase or for Holiday Giving, but this is just not enough for the cruise that I want to take. So instead I came up with an Aggressive 52 Week Savings Plan. The Aggressive Plan is simple. Start with an amount other than $1 and then add $1 every week to the amount. You will be amazed at how much money you can add by the end of 52 weeks. For example, start with $10 and add $1 to the amount every week. By the end of 52 Weeks you will have $1,846 – an additional $500! Start with $20 and you will have saved an extra $988 for a total savings of $2,366!
Sign up for my newsletter and get more money saving tips!
My Aggressive Plan starts with $50 and looks like this: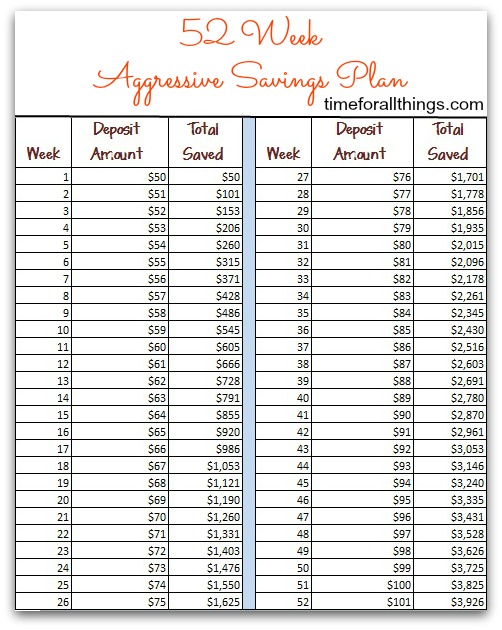 Starting with $50 lets me save a total of $3,926 by the end of the year. Now this is cruise money! Of course, I need to scrimp in other places in order to make this a reality.
52 Week Kids Savings Plan
Since I was starting this plan, my kids wanted in on the action too! They were excited that they could save money throughout the year so I came up with a savings plan for kids as well. This plan is very simply and allows kids to save a total of $359.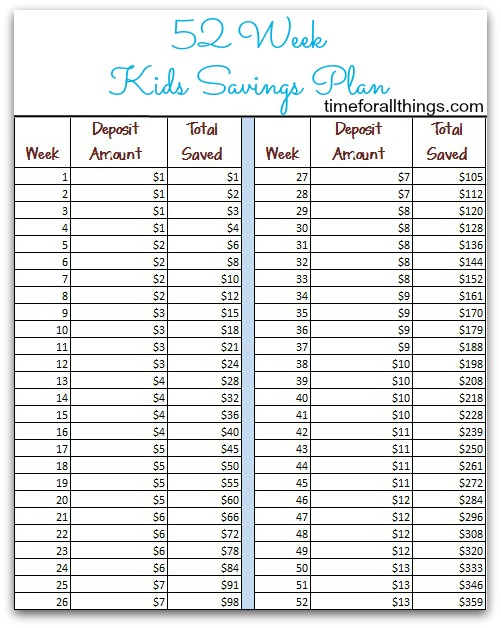 How to Start
Print out the chart that you want to follow or make your own using Microsoft Excel or another spreadsheet program.
Find a container to hold your stash. I used Ziploc containers that I found in a pack of three at my local supermarket.
Attach your chart to the container.
Keep a pen or pencil near the container to mark off the weeks.
Start Saving! If you start this week, you will finish 52 weeks by the very end of December. If you want to end sooner, consider doubling up on two weeks.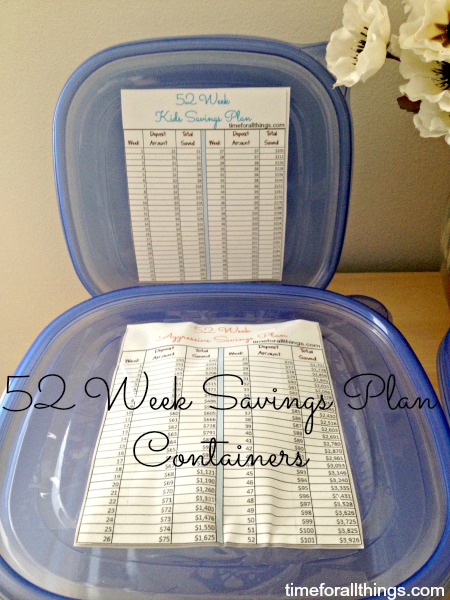 Happy Saving!
100.8K Flares
100.8K Flares
×