I am an avid reader. I love books! The problem is that I am a college student on a low budget who can't afford to go to Barnes and Noble all the time to get new books that I want to read.
I recently went to the local library and got a library card which has helped with my reading addiction but I find it inconvenient to borrow books for a set amount of time. I prefer to own my books.
I was on Facebook today just looking through my timeline and I saw an ad for "Thrift Books" so I decided to visit the website to see if there would be any good deals.
THIS WEBSITE IS AMAZING!
I only had to be on this website for 5 minutes to know that this website is amazing! They have a wide range of genres and the book prices range, but from what I've seen you can get a number of books at a range from $3-6 if you get paper back. If you want hardcover the price range is higher but in my shopping cart right now I have a hardcover book for $4.39!
I have Harry Potter and the Goblet of Fire in my cart (I brought it on vacation and left it in Mexico) and the price for the paperback is $4.17! The price for a paperback Harry Potter and the Goblet of Fire at Barnes and Noble ranges from about $8-$12.
Another bonus, for college students, Thrift Books has discounted textbooks! To make sure you trust me, I tested this theory. I bought a used book called Essentials of Strength Training and Conditioning 3rd Edition this semester for one of my classes. The price I bought it for was $75.00. I searched and found the same exact book on Thrift Books for only $13.60!! That's a $61.40 difference! I could have saved $61.40 and a lot more than that with the other books I had to rent or purchase! So if you are a college student or you know anyone in college, let them know about this website! Thrift Books may not have every book on your list but it is definitely worth looking!
Thrift Book also has a "Reading Rewards" program where you can sign up for free by giving your name and email and creating a password, then for every $50.00 you spend you get a $5.00 coupon.
Also, there is a "Tell-a-Friend" and a birthday discount. Here is what the website says about it:
"Any Reading Rewards member who invites friends and family to try Thrift Books using the 'Tell-a-Friend' program will see a 20% discount when that friend places their first order. (15% for non-Rewards members.)

For their birthday, Reading Rewards members will see a 20% off coupon in the mail. (15% for non-Rewards members.)"
The books at Thrift Books are used but you can find a lot of them in great condition! I am really excited about this new website and plan on buying a lot of books at great prices!
And the best part is, there is FREE SHIPPING on orders over just $10!
Here is the link for the Thrift Books website: http://www.thriftbooks.com/
And a picture of what the website should look like: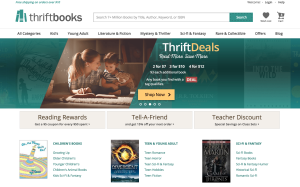 UPDATE!
I have pictures from my order of books! I ordered Harry Potter and the Goblet of Fire by J.K. Rowling, The Giver by Lois Lowry, and The Outsiders by S.E. Hinton. Here they are: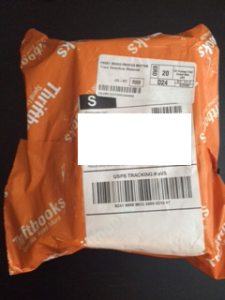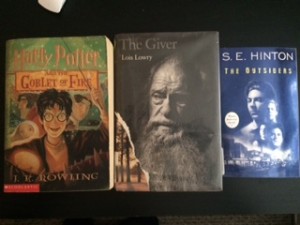 I ordered these books in "good condition" and they definitely look good! The Giver is a hard copy and is in great condition. The Outsiders is also in great condition. Harry Potter and the Goblet of Fire has a couple of dings, but it is still in good condition.
I already have more books in my cart for my next purchase!
Happy Reading!