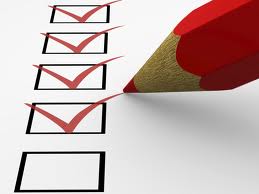 I never make New Year's Resolutions. However, when the first of the year comes around, I do start to think about changes that I want to make in my life. I write down a few of these and then tuck them away. Why? January 1st is the absolute worst time for me to make changes!
First, the holiday season as just come to a close. It is time to wind down from stress, not heap on more. Second, my son's birthday is in the beginning of January and the kids are going back to school. I don't have time to focus on goals.
I have found that March is a great time for goal setting. I have more time to sit down and actually think about things that I want to accomplish for the year. Then I make a big, long list. I further analyze the list and then just focus on 2-3 long term (year long goals) and then a number of short term goals. How to I determine if the goal is resolution worthy?
Must be Specific. Making a goal to lose 20 pounds is just not going to cut it. Instead a better goal is to limit fast food to once a month or walk for 20 minutes at least three times a week. This makes the goal not only specific but measurable, attainable, realistic and timely.
Must be Mutually Beneficial. Some of my short-term goals included signing my kids up for sports camps or summer camps. These are easy goals and have a specific time period. However, if my child wants to attend a camp that either is too expensive or too time consuming (i.e. I am driving too long or too far), then I will later change the scope and focus of the goal. Think again the timing of the goal. Do you really want to limit sweets right before the holidays which may make you crabby and may make others miserable as well?
Identify any Obstacles. You need to identify obstacles in order to be realistic and avoid being surprised. You will be surprised how many goals seem simple, but end up being demanding, requiring a lot of effort, or take too long to accomplish. Careful planning in advance eliminates much of this disappointment, but you must understand that you can't always see the roadblocks ahead. That's why commitment, attitude, responsibility, and focus on the benefits remain constant necessities. Patience is also extremely important. Just remember that by keeping yourself focused on the goal, you can see the benefits and not just the obstacles.
Don't be afraid to ditch the goal if it isn't working out. Instead, revisit the goal later in the year to see if your timing was just off. Need help setting goals? I have found the InnerGuide 90-Day Goals Planner with Journal & Organizer a great product in helping with goal setting. Not only is there a daily planner, but the Journal helps with reflection, critical thinking and time management!