The holidays are coming up fast and I'm sure that everyone is pulling out boxes upon boxes of decorations and big surprise, everything is in disarray and disorganized. Ornaments are spread put between several different boxes, some of them are broken or cracked. Lights are all in a big, confusing, tangled ball that seems to have no beginning or end. Your fake trees and wreaths are bent and pieces are in different boxes. And as you open your boxes or bags of decorations and see this madness, you can feel your blood pressure start to rise and you feel stressed OUT. The holidays are not supposed to be about stress and madness. Decorating your home with festive decorations should be fun, but it's hard to have fun when you're stressed out!
So instead of stressing out this season, take a deep breath and read these tips on how to get organized this Christmas season!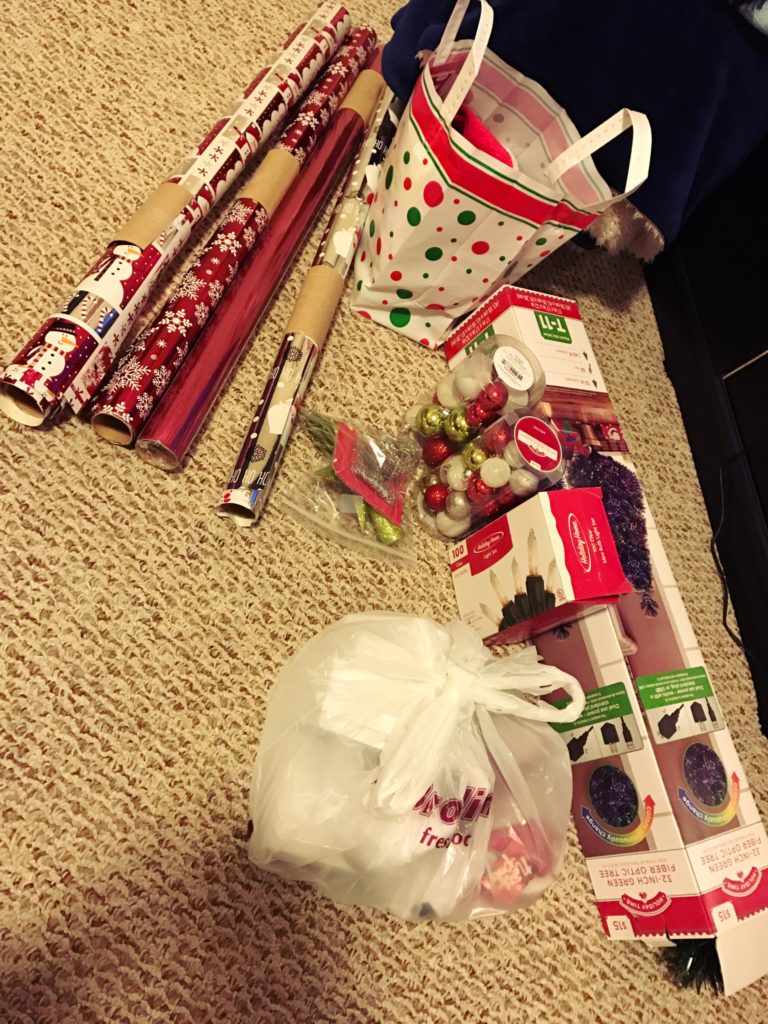 Tip #1:
Label everything! Having your boxes labeled with what's in them is really important. I also recommend using a label maker or buying labels, writing on them and sticking them to your storage bins, this way you can add or remove the labels if you want to add or remove items from that bin. Don't be afraid to be specific! For example, my family growing up had 2 sets of ornaments to use, so we had a "Santa Christmas" box which contained santa ornaments and we also had a "Blue and Silver Christmas" which had our blue and sliver ornaments and we would switch which ornaments we would use every year! So our bins would be labeled with "Santa Christmas Ornaments" instead of "ornaments" so we knew which kind of ornaments were in that box.
Having your holiday decorations stored with labels makes it really easy to know which bins you want to open so that you're not in your attic or basement rummaging through all of your storage figuring out which bins have what in them.
Tip #2:
Plastic bags, old gift bags and Ziploc bags are your friends! These bags are perfect for holding just about anything. You can see in the pictures below that I have ornaments, ribbon, little toys, ornament hooks, tree star, pine scented sticks, etc. in the bags.
Putting your smaller items like hooks in Ziploc bags keep them all together and prevents them from getting all over the place.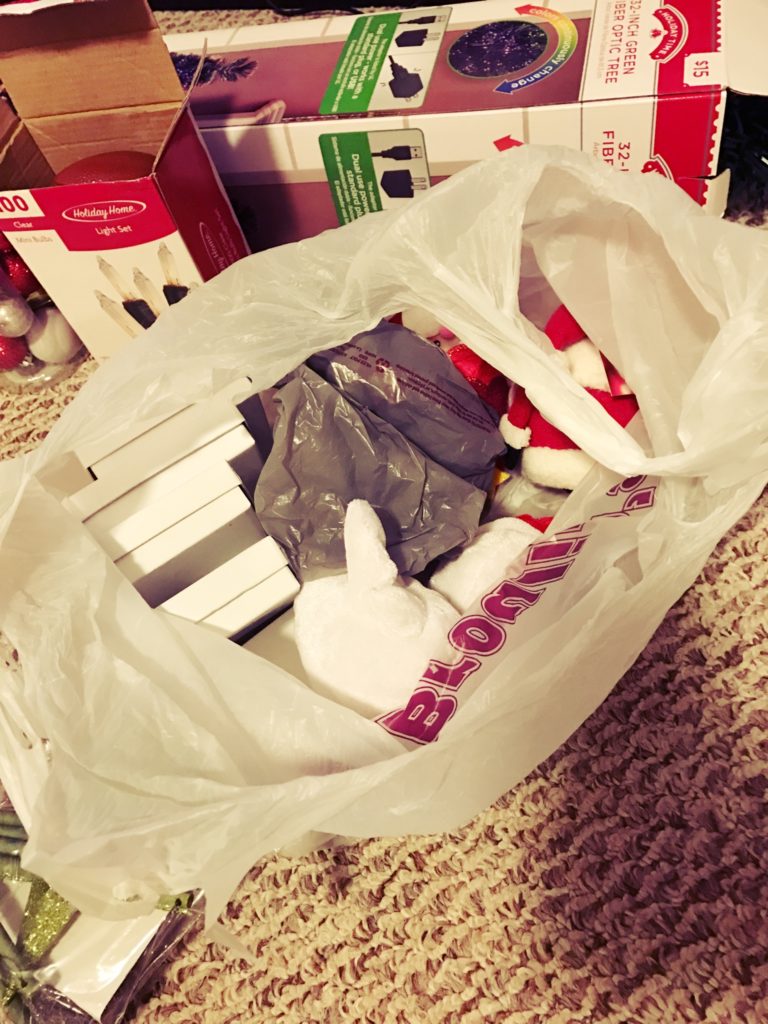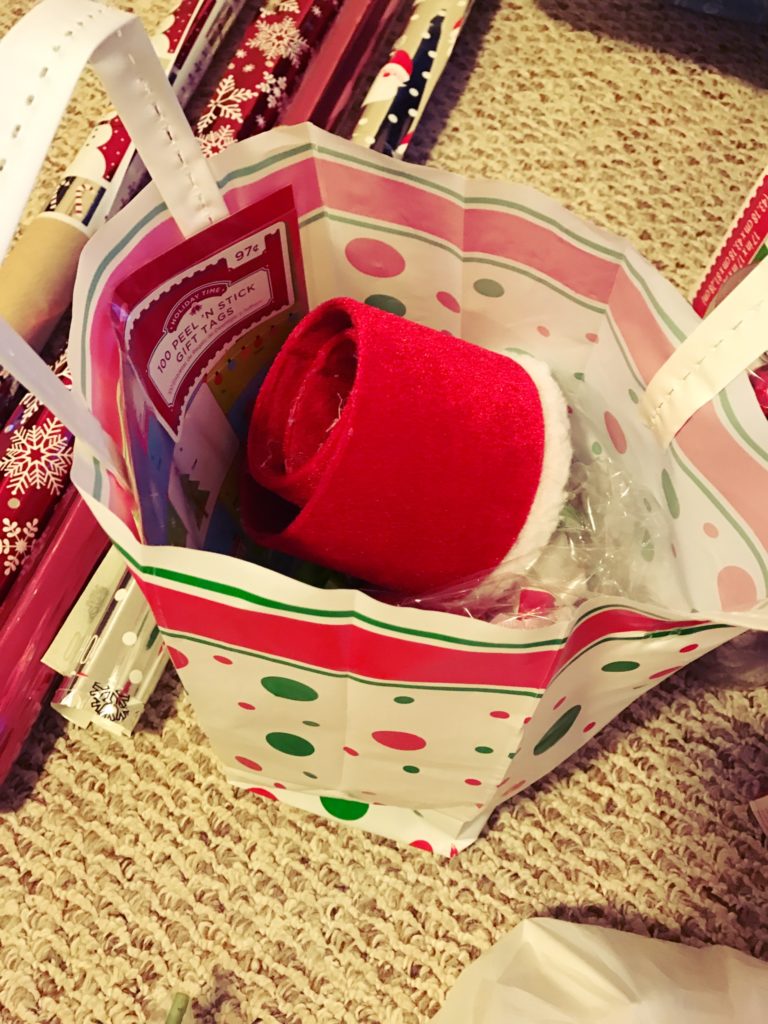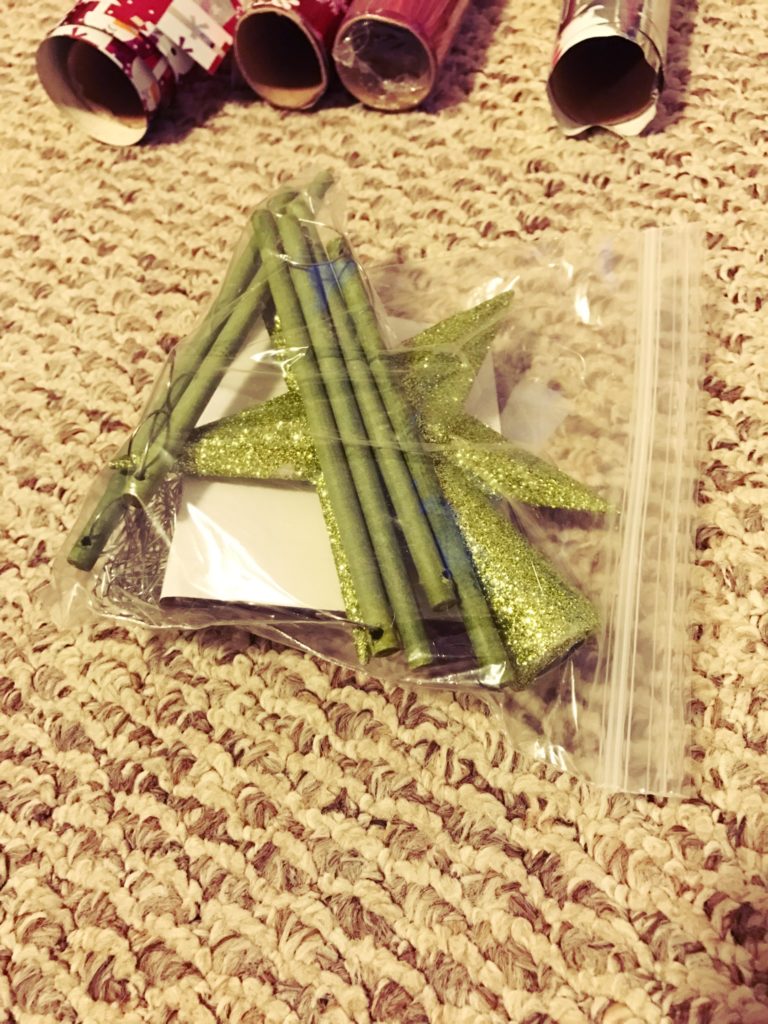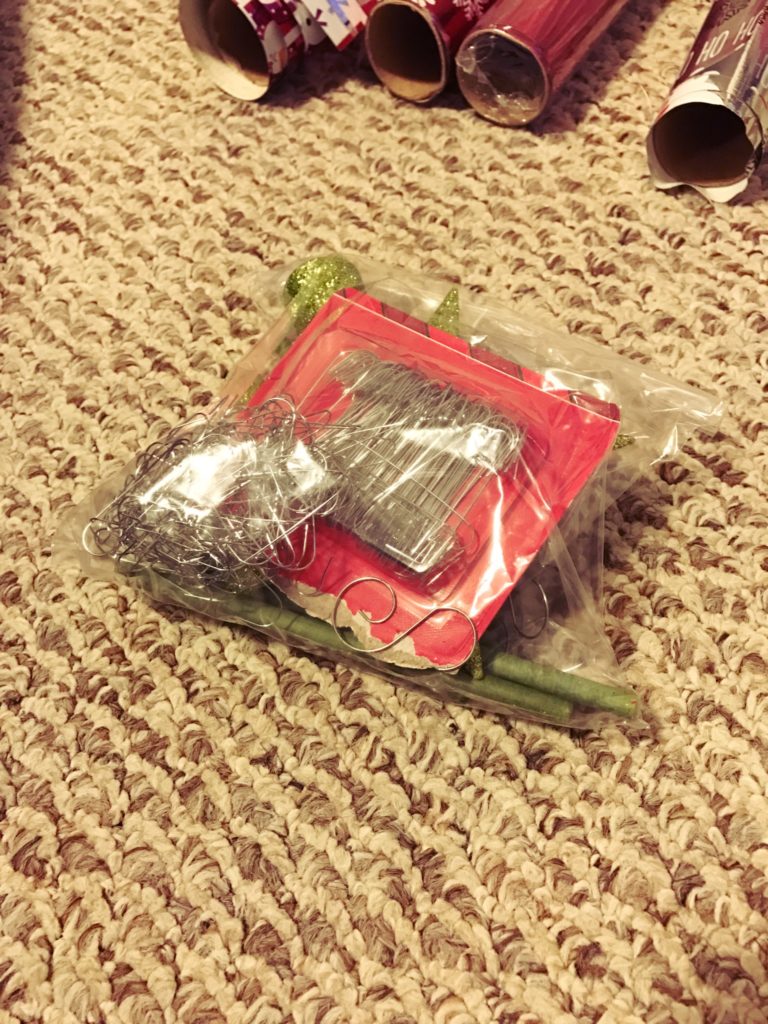 Tip #3:
Keep all boxes or storage compartments that your decorations come in. Putting your decorations back in their box is so much easier and way more organized than just having all of your odd shaped items stuffed into a storage bin. If it didn't come in a box or if you no longer have the box, thats okay! You can use a different one! I have my small fake Christmas tree box that I can put it in when Christmas is over but if I din't have the box I could find another box of similar size and shape and use that. I could also put it in a garbage bag and wrap it up tight so that it takes up less room. If you want a decoration to go in a box but it didn't come with one, you can go to Staples or Office Max to get some or even ask a neighbor or friend if they have some old cardboard or shoe boxes that you can have.
In the picture below I have a box that I put some of my specialized ornaments. I also kept the tubes for my general ornaments so that I didn't have ornaments everywhere in my storage bin. It keeps everything way more organized and relieves my stress.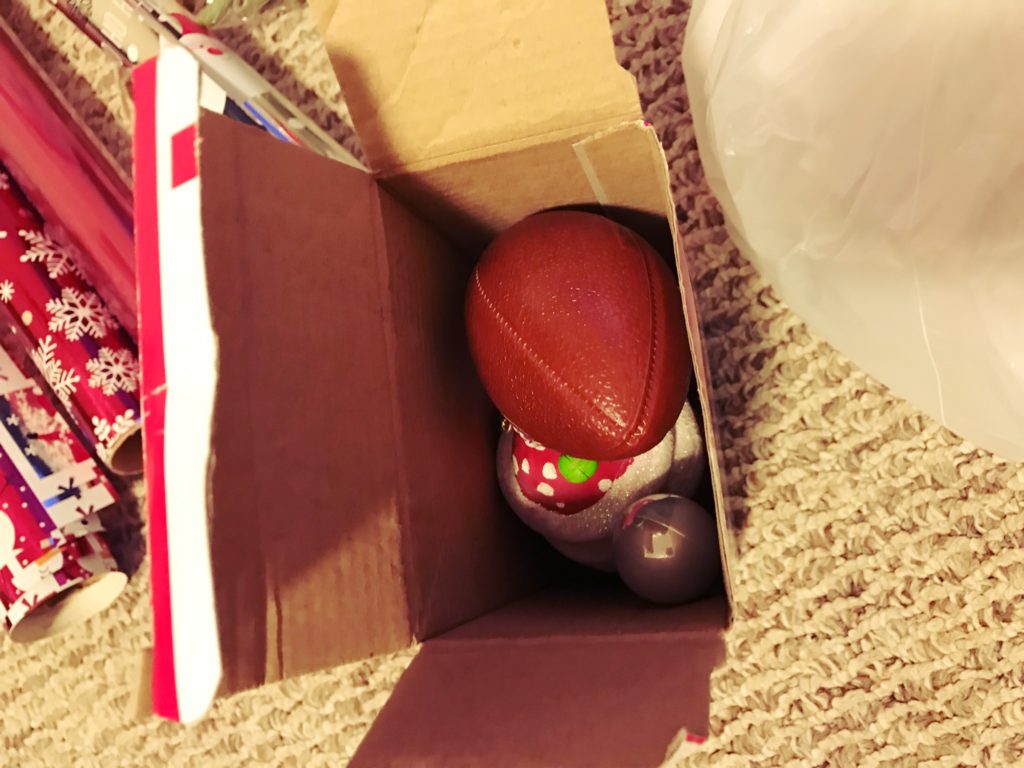 Tip #4:
I got a tip from a friend about storing your wrapping paper that everyone should know! Instead of putting a piece of tape on the edge of the paper and then having it rip when you use the paper next holiday season, you can cut a toilet paper roll on one side and put it around the wrapping paper tube and then, if needed tape it together. After that you can just slide the tube on and off and never rip your wrapping paper again!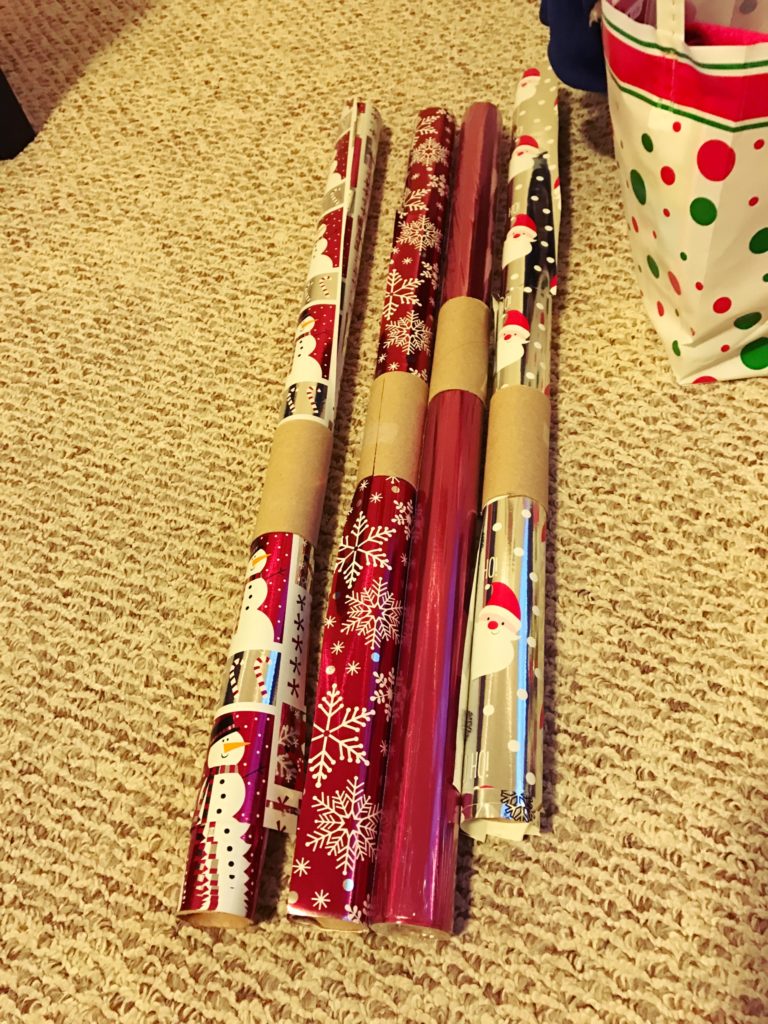 I don't have many decorations but at least they are organized! I hope these tips are helpful for your holiday storage and organization!
Stay tuned for more of 30 Days of Christmas! Go to The Shopping Duck for tomorrows post! Remember all of the links to the 30 Days of Christmas are one the original 30 Days of Christmas post on our blogs!