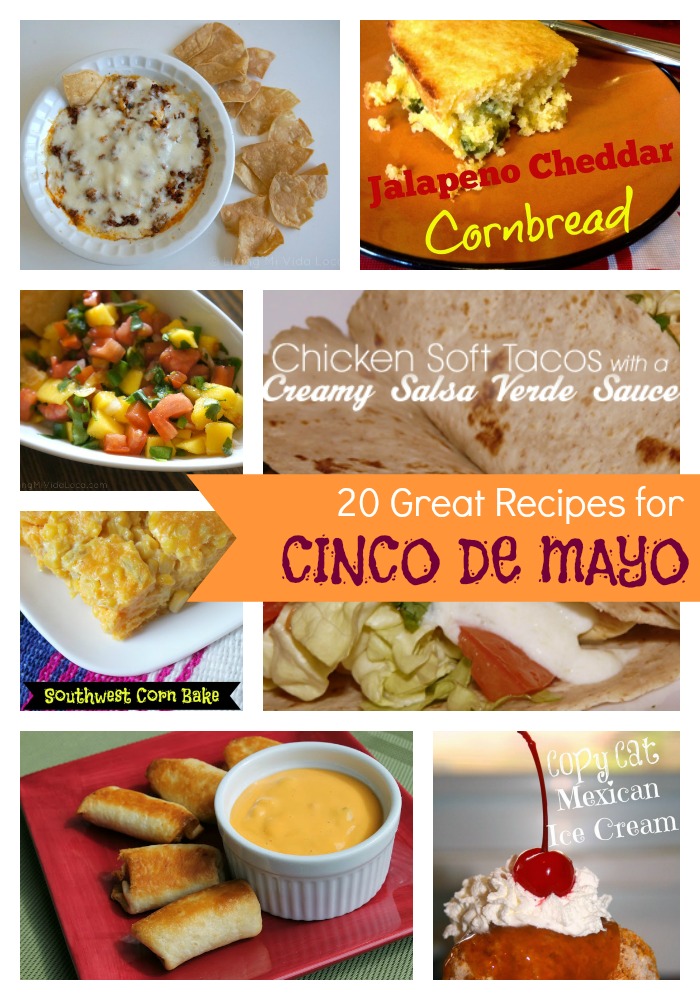 Growing up in Southern California made me a big fan of Mexican and Tex Mex food! There was a shop not far from our house that made hand made tortillas. They also expanded their tortilla shop and started to sell enchiladas, tacos and tamales for the lunch crowd. This was the best Mexican food that I ever ate. After moving away from So Cal, I found it hard to find great Mexican food, so I started making my own. No crunchy taco shells for me! They had to be corn tortillas, fried in a pan of oil with shredded beef seasoned just right.
Over the years, I have looked for other great Mexican/Tex Mex recipes and recently I asked a few of my blogging friends their favorites as well. Enjoy these great recipes for Cinco De Mayo!
Starters:
Queso Fundido with Soy Chorizo
Salsa de Aguacate – Avocado Salsa
Mango Salsa
Creamy Avocado Dip Recipe
Homemade Tortilla Chips in the Microwave
Mini Chicken Chimichangas Appetizer Recipe
Side Dishes:
Jalapeño Cheddar Cornbread Mexican Recipe
Southwest Corn Bake
Main Dishes:
So Cal Street Tacos
Crock Pot Beef Carne Asada Tacos
Easy Mexicali Casserole Recipe
Quick and Easy Rice & Bean Burrito Recipe
Crockpot Layered Bean Burritos
Slow Cooker Chicken Tacos with Peach Salsa
Slow Cooker Chicken Fajitas Recipe
Easy Mexican Rice Casserole Recipe with Black Beans Sausage and Corn
Crockpot Tamales
Dessert:
Copy Cat Mexican Restaurant Ice Cream
Frozen Margarita Pie Bars
Easy Mexican Flan
Buy a pinata, cook up some delicious food, and have a great party!