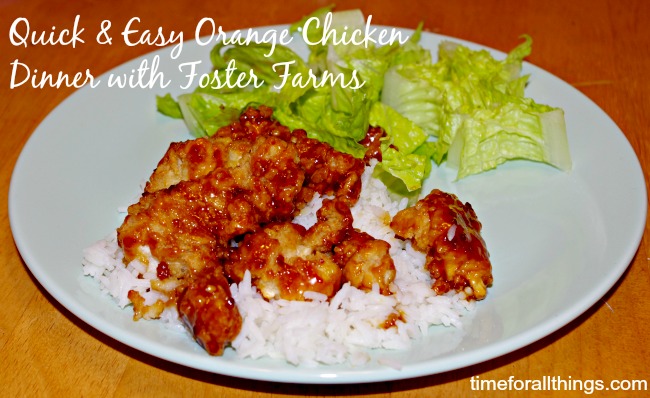 While I am trying to cook more with non-packaged ingredients, there comes a time in every busy mom's day when she realizes that she is just running out of time! My kids are involved in many after school and church activities and this makes dinner time a rushed event.
One of my daughter's favorite meals in orange chicken. Usually she is begging me to stop at our local Chinese Restaurant to pick her up a box. This time, I decided to see if I could make orange chicken that she would like and that would take me 20 minutes or less.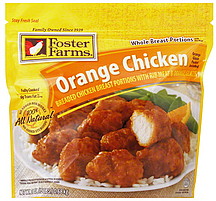 At our local supermarket (Smith's) I found a bag of pre-cooked Orange Chicken by Foster Farms. Normally, we don't like the packaged frozen chicken, but we hadn't tried this one and I thought we would give it a go. Here is the meal plan and schedule for my quick and easy Orange Chicken Dinner:
Pre-heat oven to 400 F.
Choose rice of choice and follow instructions. In my case, I boiled the water and rice and set the timer for 20 minutes.
Cover cookie tray with foil and place Foster Farms Orange Chicken pieces on tray. Place in oven when time for rice reads 15 minutes. (This way both the rice and the chicken will be done at the same time.)
Place Orange sauce (comes in the Foster Farms chicken package) in warm water to heat.
Take four Romaine leaves and chop for salad.
When timer rings, remove the chicken from oven and rice from the stove top.
Toss the chicken pieces in a large bowl and add the sauce, mix together.
Plate your meal by adding a scoop of rice, orange chicken on top and salad on the side.
Serve with your favorite salad dressing.
What was the verdict! My daughter loved Foster Farms Orange Chicken. It is the closest this that we have found to Chinese Takeout!