This past year I made a nautical style quilt for my son. The quilt, with colors of red, blue and khaki, is a great starting place for decorating his room. I plan on using different nautical directions to give the home an old sea-faring theme.
My first project was to take wood letters and apply a nautical theme. I choose letters from The Wood Connection in the Alphabet Andrea style. These letters are 7 inches high and 6 inches wide. They are also 1 1/2 inches deep.  The best part – they are only $1.95 each! I bought seven to make the word EXPLORE.
Next, I was off to my local craft store to look for scrapbook paper with a travel/map theme. I found a pack of paper from Recollections entitled World Traveler which has a variety of travel related papers.  This paper pack is available at Michaels for $19.99, and you can use a 40% off coupon to save money. You could also find old maps that would work well too.
Here is a list of the items that I used to create this project:
Wood Letters
Scrapbook Paper
Acrylic Paint (I choose Midnight Blue by Delta)
Foam Paint Brushes
Texture Cream or Mod Podge
Wood Glue
Sandpaper
Nail File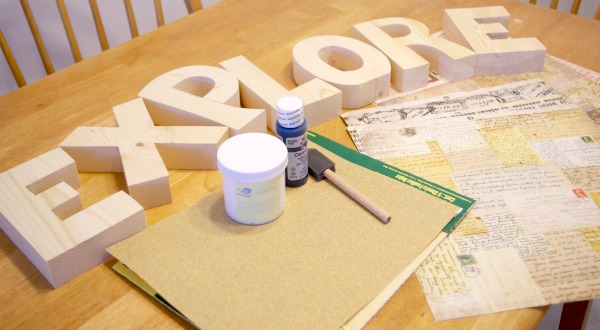 Step One: With your sandpaper, sand your wood letters so that there are no rough edges.
Step Two: On the back of your scrapbook paper, lay each letter on the paper with the right side facing the scrapbook paper. Trim with a pencil and cut out the letters on the line. It is fine if your paper letters are a little larger than the wood because this will be fixed later.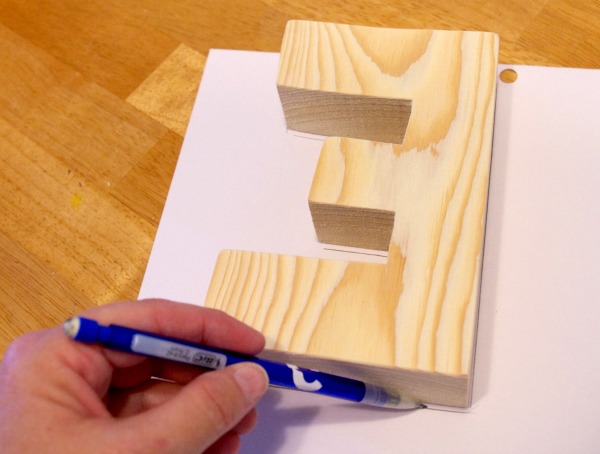 Step Three: Paint your wood letters with a foam paintbrush and your acrylic paint color of choice. I painted the sides and back and an edge on the front to ensure that the wood would not show if my scrapbook paper wasn't exactly the size of the letter. Let dry.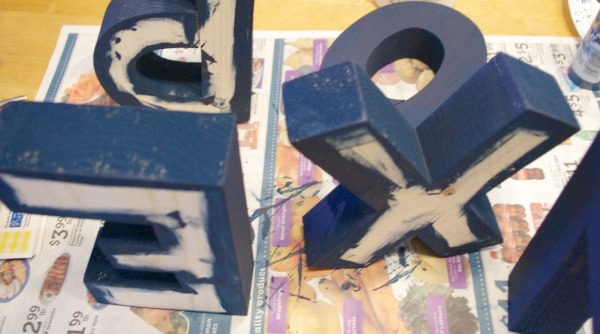 Step Four: With a foam brush, paint a thin coat of wood glue on the front of the letter. You do not want any big globs of blue. Press the scrapbook paper on the letter and make sure that the paper is smooth and there are no bubbles. Let dry for at least one hour.
Step Five: Using your sandpaper or a nail file, sand the edges of the letter where the scrapbook paper meets the edge. This will take off any paper that is overhanging and give the letters a more rustic look.
Step Six: I used Texture Cream (from The Wood Connection – love this place) to paint over the scrapbook paper. Texture Cream gives the paper a more textured look then you would get with Mod Podge. However, Mod Podge works well too. Use a foam brush to put on a good layer of the Texture Cream. You should be able to see the white color, but not too much that it is a big goop! Don't worry the white color dries clear. Be careful not to get the Texture Cream or Mod Podge on the wood. While it won't ruin the project, it does change the color/look of the wood. Let dry.
You are now ready to use your letters! These letters can be arranged on a dresser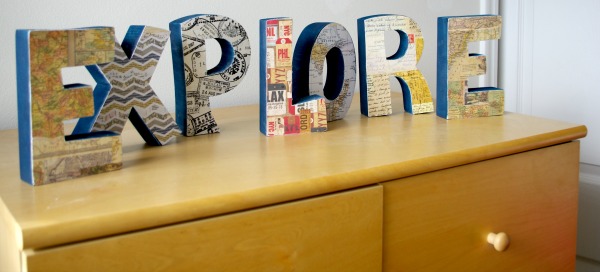 or hang them on a wall (I used Command Picture Hanging Strips which work wonders! Simply stick one side to the back of each letter and then follow the directions for placement on wall).