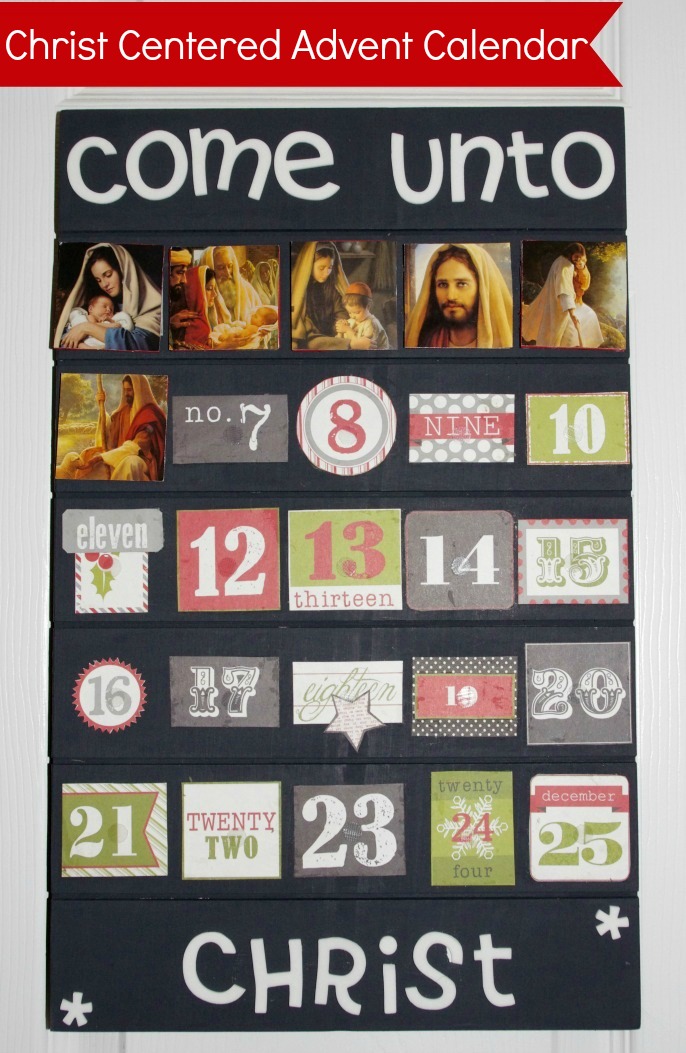 We love Advent Calendars at our house. Each year we have at least two that we hang up. Often I find ones with treats or toys that my kids love. This year, I decided to make an Christ Centered Advent Calendar that focuses on the reason for Christmas – Christ. I based my idea on this one that I found at Sunlight Pages.
Materials:
Wood Board
Pictures of Christ
2″ x 2″ wood squares (about 1/4″ thick)
Scrapbook Paper
Glue
White Cardstock
Scrapbook Paper with Advent Numbers
Paint
Sponge Paintbrush
Clear small velcro circles
Foam Letters
Instructions:
1. I found the perfect wood board at The Wood Connection. This Slat Sign Tall is 11.25″ wide by 17.75″ tall and is 0.75″ deep. The board is cut with grooves making it great for an advent calendar. I painted the board Charcoal (Delta Ceramcoat).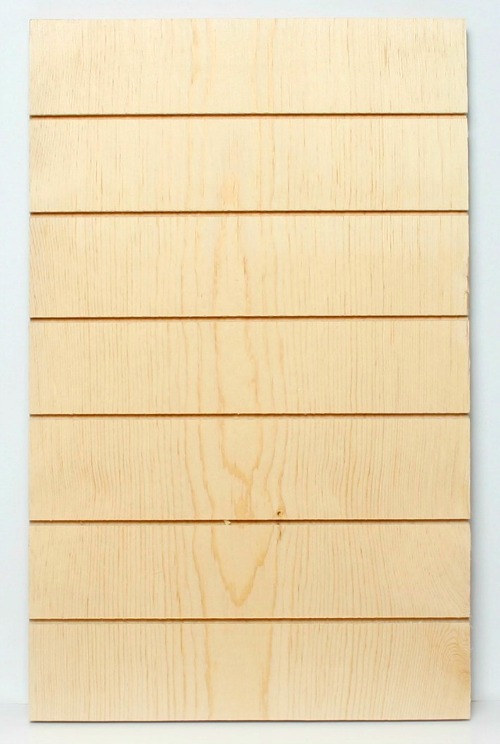 2. Cut up the Scrapbook Paper with Advent Numbers (Echo Paper Tis The Season Line) into individual numbers. After the numbers are cut, you may need to adjust the sizes. I wanted the numbers to be about 2″ square.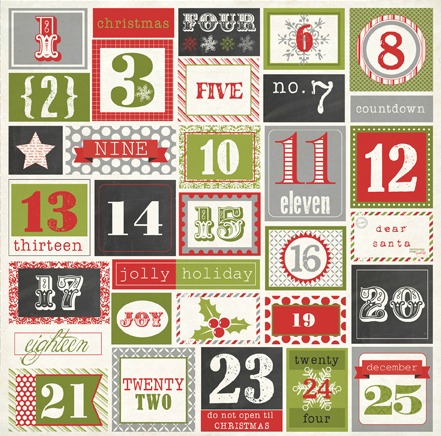 3. The first section of the board and the last section of the board are used for the saying, while the middle five sections are used for the numbers. I put five numbers in each section, dividing the section so the numbers are placed evenly. Glue the numbers to the board.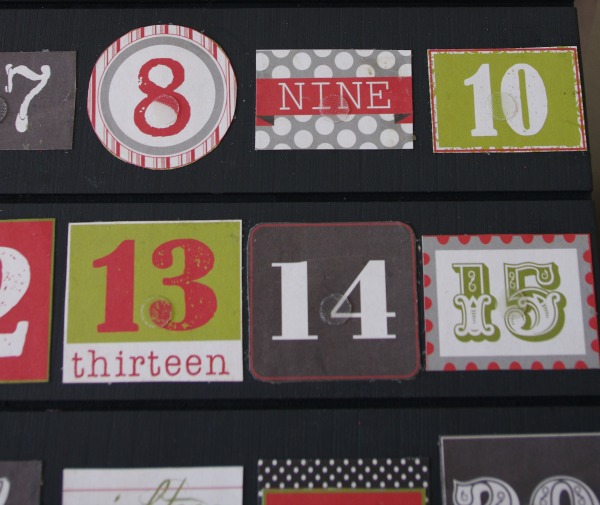 4. I made a 2″ x 2″ template from scrap cardstock to use with my Christ pictures. Since all of my pictures were much bigger than the size I needed, I used the template to put over the picture, trace and then cut. You can find pictures of Christ at your local Christian bookstore.
5. Cut out 2″ x 2″ squares of various scrapbook papers for the back of your wooden squares.
6. Paint the edges of the wooden squares red. I used Delta Ceramcoat Tompte Red. NOTE: I could not find 2″ x 2″ wood squares at my local craft store, so I bought the 2″ x 3″ rectangles and cut them down. Next time I would definitely just buy them online. The edges were a little uneven after cutting.
7. After the squares are dry, glue a scrapbook square on one side and a picture of Christ on the other.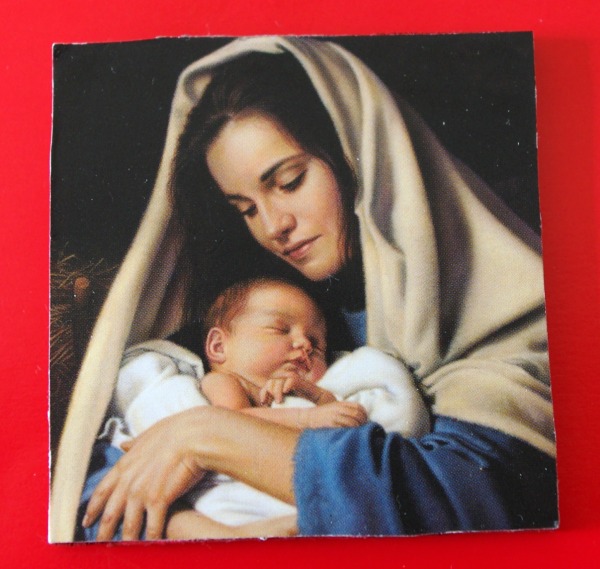 8. Find Bible scriptures to match the pictures, or just pick some of your favorites. Print them on white cardstock and cut out. Glue them to the scrapbook paper on the squares. I glued them to the top so I could add the velcro below. Here are the ones that I used:
Matthew 1:21/Luke 2:11
Luke 2:27-35
Luke 2:40
Matthew 13:54-57
Matthew 4:18-20
John 10:1-4
Matthew 18:3
Matthew 18:23-25
John 9:1-7
Mark 4:36-41
John 14:18-27
Matthew 19:13-15
Matthew 5:37-39
Matthew 5:14-16
Luke 15:4-7
John 13:34-35
John 13:1-9
Luke 22:17-20
Matthew 26:36-44
John 20:11-17
John 10:16
Mark 13:28-33
John 11:24-27
John 14:1-3, 6
Matthew 5:1-12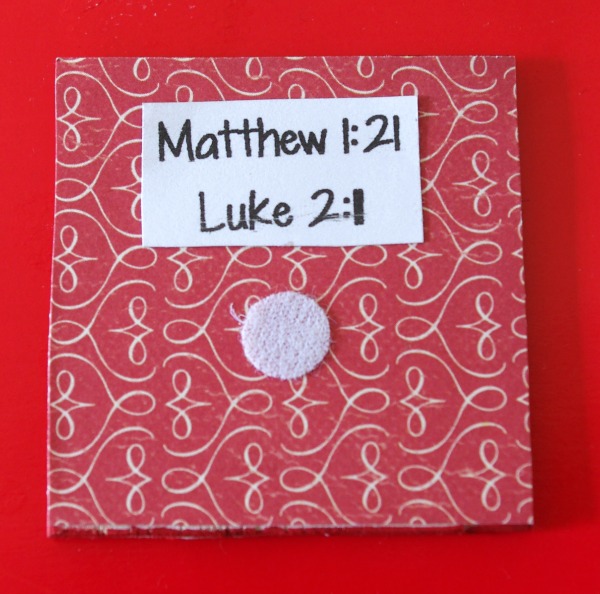 9. Attach a velcro circle to the back of each square and then attach the clear matching piece with the sticky part facing out. Place each picture on the calendar over the number. The sticky piece will attach to the number and you will have your squares perfectly aligned.
10. Take off all the pictures and store for each day. If you have a particular order you want to place them, store them in the order.
11. Use foam letters to add a saying to your board at the top and bottom.
I love how this turned out! Each day we choose one picture, read the scripture and place it on the calendar. It is a reminder of why we are celebrating Christmas!